August 8, 2014 – This is Reeni from Cinnamon Spice & Everything Nice bringing you a dinner salad recipe that will easily turn into a favorite and spice up your family's taco night!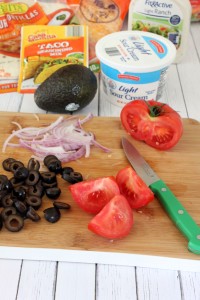 All the very same ingredients you expect to find on a classic taco are in this salad plus a few extras, including homemade tortilla chips that are a cinch to make.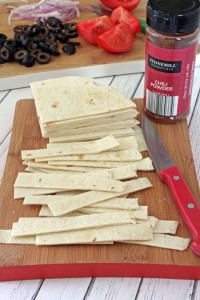 Taco night is family night at my house because not only is it a meal we all love and enjoy eating together but one we all chip in to prepare. The tasks are split up so while one person browns the meat, another shreds the cheese while a third chops and slices the vegetables. For this recipe there's the added task of making the tortilla chips, but it sure does make a difference and is worth it!
This is a fast and easy weeknight meal that won't fail to please even the pickiest eaters, especially when they are involved in preparing it. That's the best way I know to get them to eat.
Taco Salad
Total Time: 40 minutes
Serves: 4
Ingredients:
Carlini Canola Cooking Spray
4 Benita Fajita Tortillas, cut into ½-inch wide strips
Stonemill Essentials Chili Powder, to taste
Stonemill Essentials Iodized Salt, to taste
Stonemill Essentials Ground Black Pepper, to taste
1 pound 93% Lean Ground Beef
1 oz. Stonemill Essentials Taco Seasoning
12 oz. Little Salad Bar Garden Salad
¼ cup Fit & Active Light Ranch or Fit & Active Fat Free Zesty Italian Dressing
1 ¼ cups Fit & Active 2% Milk Four Cheese Mexican Shredded Cheese
½ cup Tuscan Garden Large Pitted Ripe Olives, sliced
1 large tomato, seeded and diced
1 avocado, diced
½ small red onion, thinly sliced
¼ cup Friendly Farms Light Sour Cream
Directions:
Preheat oven to 350°. Lightly spray baking sheet. In a medium bowl, lightly spray tortilla strips with cooking spray and toss with chili powder, salt and pepper. Spread tortilla strips on baking sheet and bake for 10-15 minutes, tossing once halfway through.
In a large sauté pan, cook ground beef. Drain fat and return ground beef to pan. Add taco seasoning, cook according to package instructions.
Divide salad among four salad bowls. Top with 1 tablespoon of dressing, ¼ of taco meat and ¼ of cheese. Divide remaining ingredients among salads. Top with tortilla strips before serving.
Recipe and Photos Courtesy of Reeni Pisano, Cinnamon Spice & Everything Nice