July 11, 2016 – We invited 10 California-based food lovers to the beautiful Bridlewood Estate Winery, framed by hillside vineyards and nestled in the Santa Ynez Mountains (yes, it's as beautiful as it sounds!), all to experience…A Taste of ALDI.
Our guests enjoyed a gourmet dinner created by Bon Appétit's Chef Mary Nolan and were challenged to guess which items came from ALDI. The meal was complemented by ALDI vino that's simply Best in Glass.
Take a peek at what Chef Mary created using beautiful, fresh ingredients from ALDI and what our new foodie friends thought. Can you guess what items are from ALDI? Watch the video to find out!
Want to recreate one (or a few) of the plates for your own dinner party? Check out the full menu and a couple of our favorite recipes from the dinner below. And be sure to pick up the June edition of Bon Appétit magazine to unlock even more tasty dishes.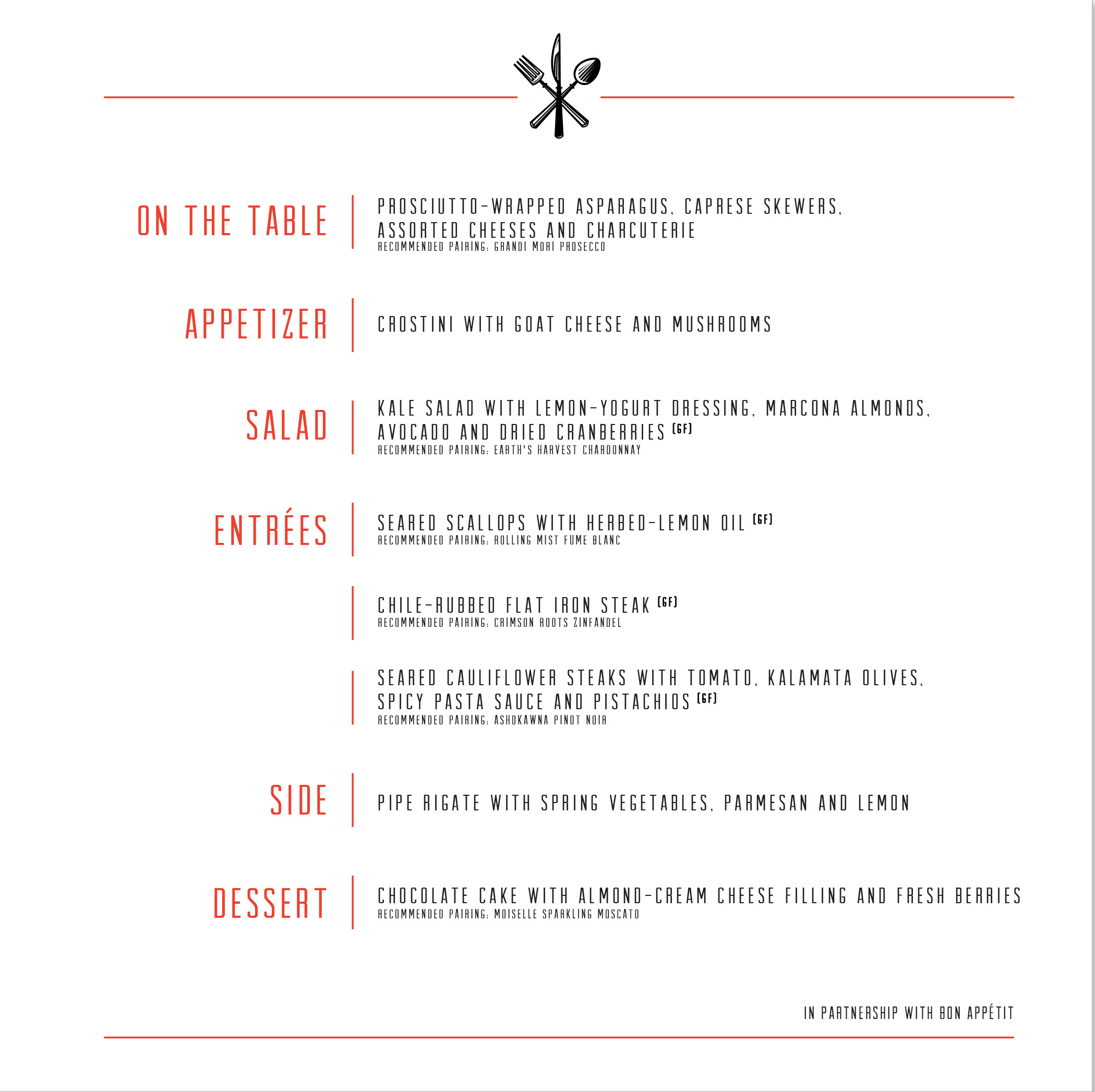 Chile-Rubbed Flat Iron Steak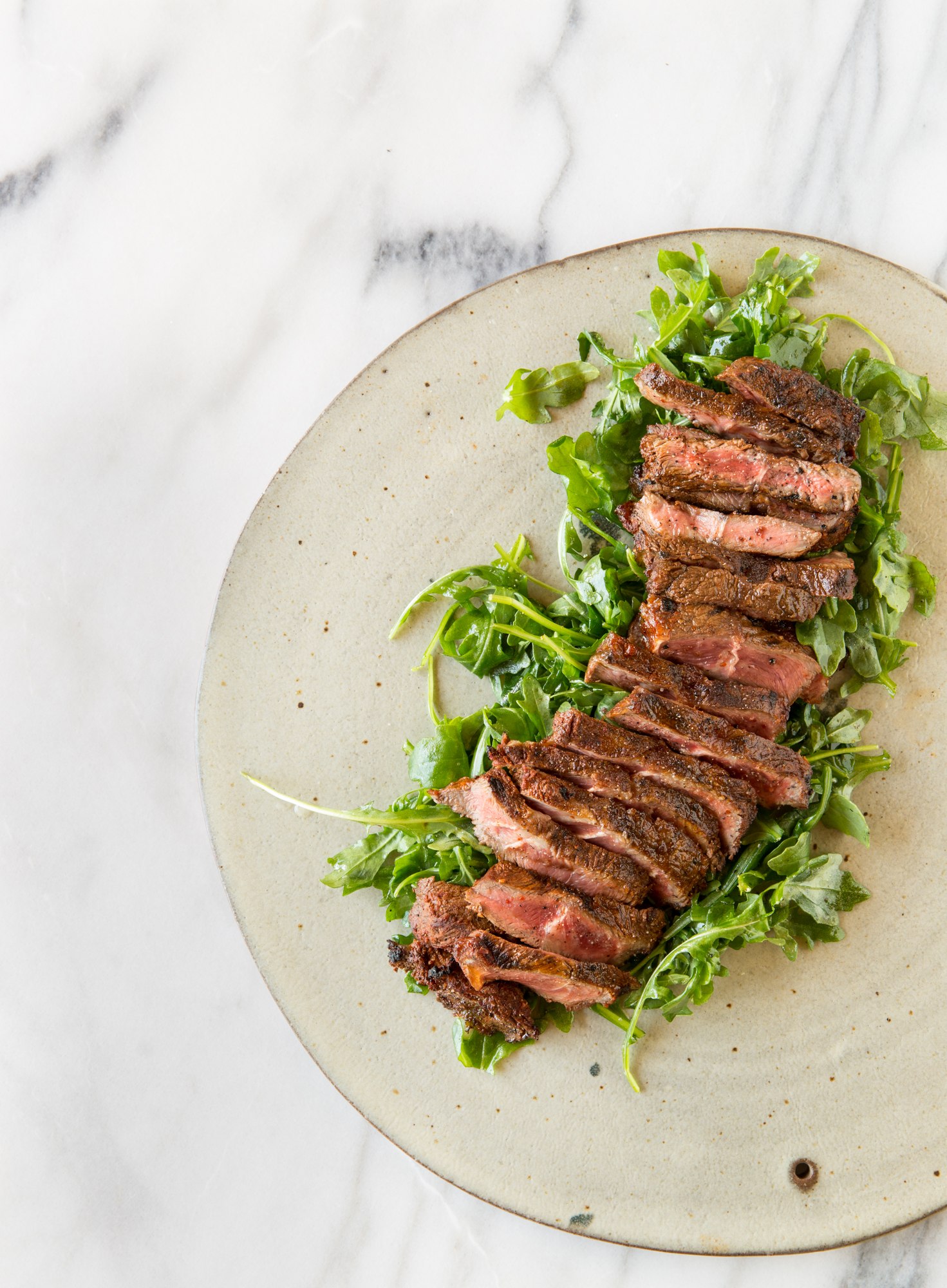 Recipe courtesy of Mary Nolan
Photo Courtesy of Lisa Romerein
 
Yields: 4
Prep Time:  55 minutes (plus overnight to marinate)
Cook Time:  8 minutes
Total Time: 1 hour, 3 minutes (plus overnight to marinate)
 
Ingredients:
4 dried guajillo chili pods, stemmed, seeded and torn into pieces
2 Pueblo Lindo Chipotle Peppers, reserving 2 tablespoons adobo sauce
1 tablespoon red wine vinegar
2 teaspoons SimplyNature Organic Light Brown Sugar
1 teaspoon Stonemill Essentials Paprika
3/4 teaspoon ground Stonemill Essentials Sea Salt Grinder, divided, plus additional for garnish
1/2 teaspoon SimplyNature Organic Ground Cumin
1/4 teaspoon SimplyNature Organic Garlic Granules
1 1/2 pounds USDA Choice Flat Iron Steak or USDA Choice Skirt Steak
Directions:
In a heat proof bowl, pour boiling water over chilies until fully submerged. Steep for 40 minutes, or until softened.
Remove chilies from water and reserve water. Transfer chilies to a blender along with chipotle peppers, adobo sauce, vinegar, brown sugar, paprika, salt, cumin and garlic. Start blending and slowly stream in 4-6 tablespoons of the reserved water. Blend until smooth. Place marinade in a resealable bag with steak and refrigerate overnight.
Preheat grill to medium-high. Grill steak, turning occasionally and moving to a cooler spot on grill as needed to control flare-ups. Cook until nicely browned and an instant-read thermometer inserted into the thickest part reads 130°, about 3-4 minutes per side for medium-rare. Let rest 10 minutes.
Transfer to a cutting board and slice against the grain on an angle, into 1/3-inch thick slices. Transfer to a serving platter along with any accumulated juices. Sprinkle with more salt to garnish.
Pipe Rigate with Spring Vegetables, Parmesan and Lemon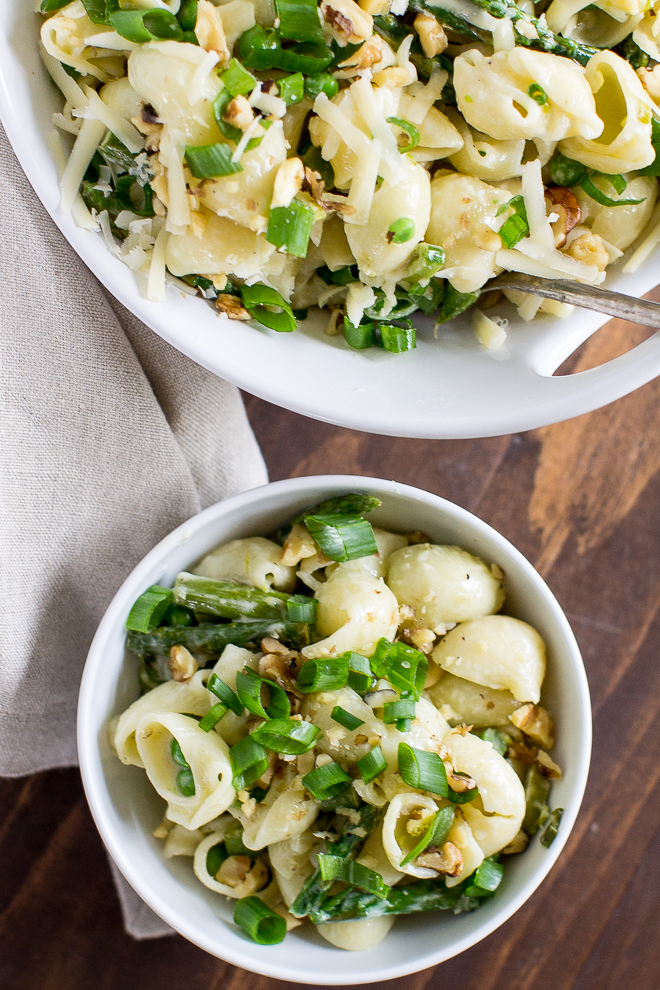 Recipe courtesy of Mary Nolan
Photo courtesy of Meggan Hill
Yields: 6
Prep Time: 15 minutes
Cook Time:  15 minutes
Total Time: 30 minutes
Ingredients:
6 green onions
2 tablespoons Countryside Creamery Unsalted Butter
2 tablespoons Carlini Extra Virgin Olive Oil, plus additional for serving
8 ounces asparagus, trimmed and cut into 1 1/2-inch pieces
6 ounces sugar snap peas, trimmed and sliced
2 cloves garlic, minced
3/4 teaspoon ground Stonemill Essentials Sea Salt Grinder, plus additional to taste
1/2 teaspoon ground Stonemill Essentials Peppercorn Grinder, plus additional to taste
1/4 cup Earth's Harvest or Winking Owl Chardonnay
16 ounces Priano Bronze Cut Pipe Rigate Pasta
3/4 cup Season's Choice Frozen Sweet Peas
1/2 cup Countryside Creamery Heavy Whipping Cream
1 1/2 teaspoons lemon zest
1/2 cup grated Priano Parmesan Cheese Wedge, plus additional for serving
1 tablespoon fresh lemon juice
1/3 cup Southern Grove Walnuts, toasted and chopped
Directions:
Thinly slice the white and light green parts of green onions. Thinly slice dark green tops on the diagonal and reserve for garnish.
Bring a large stock pot of heavily salted water to a boil over high heat.
In a large sauté pan, heat butter and olive oil on medium heat. Add sliced scallions, excluding reserved garnish, and sauté until fragrant, about 2 minutes.
Add asparagus and increase heat to medium-high. Cook until bright green, stirring frequently, about 5 minutes. Add sugar snap peas, garlic, salt and pepper and cook 2 minutes, stirring frequently.
Add white wine and cook until reduced by half, about 1-2 minutes.
Meanwhile, add pasta to boiling water and stir. Cook for 9 minutes; add frozen peas during the last minute of cooking. Reserve 1 cup cooking water. Drain and return to pot over low heat. Add asparagus mixture along with heavy cream, lemon zest and 1/2 cup of reserved cooking water. Gently stir to combine and remove from heat.
Stir in parmesan cheese and lemon juice; add remaining pasta water if sauce isn't visible on the bottom of the pot. Season to taste with salt and pepper.
Transfer to serving dish and top with walnuts and reserved green onion tops. Drizzle with olive oil and sprinkle with parmesan.
Cover Image Photography Credit: Lisa Romerein.