October 2, 2014 – Hey everyone, it's Cassie from Bake Your Day with you today. I live in the Midwest where we happen to have very defined seasons, and I am so ready for fall. I love to have open windows, football games, changing leaves and — you guessed it — soup!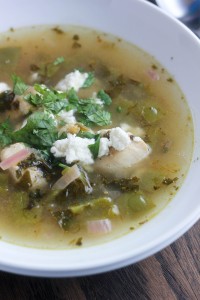 I love all different kinds of soup and one of my favorites is tortilla soup. Today I'm sharing just that, but with a little twist. I use all things green – green enchilada sauce, jalapenos, green bell peppers, lime, salsa verde and cilantro to create a super flavorful, but amazingly simple, fall soup recipe.
This one has become a favorite in our house! Give it a try and tell us what you think!
Verde Chicken Tortilla Soup
Ingredients
Chicken
1 ½ pounds Kirkwood Chicken Breasts, trimmed
1 tablespoon Carlini Pure Olive Oil
½ teaspoon Stonemill Essentials Iodized Salt
½ teaspoon Stonemill Essentials Ground Black Pepper
½ teaspoon Stonemill Essentials Garlic Powder
Soup
2 tablespoons Carlini Pure Olive Oil
1 ¼ cups diced red onion
2 cloves garlic, minced
¼ teaspoon Stonemill Essentials Iodized Salt
¼ teaspoon Stonemill Essentials Ground Black Pepper
1 cup diced green bell pepper
2 green onions, thinly sliced
1 jalapeño, seeded and minced
½ cup chopped cilantro, divided
2 tablespoons lime juice
1 teaspoon Stonemill Essentials Ground Cumin
1 teaspoon Stonemill Essentials Oregano
1 cup salsa verde
32 ounces Chef's Cupboard Chicken Cooking Stock*
2 cups water
9 ounces Clancy's Blue Corn or Multigrain Tortilla Chips
½ cup crumbled Benita Fresco Cheese
Directions                 
Preheat oven to 350°.
For the chicken: Brush one side of the chicken with half of the olive oil. Sprinkle with half of the salt, pepper and garlic powder. Place in a glass baking dish, seasoned side down. Brush the top with remaining olive oil, season with remaining salt, pepper and garlic powder.
Roast in the oven for 25 minutes, until the chicken is cooked through and the juices run clear. Allow to cool for 15 minutes, then dice.
For the soup: In a 5-quart Dutch oven, heat olive oil over medium-high heat. Add red onion and garlic; stir to coat. Cook for 5 minutes or until the onions are tender. Add the salt, pepper, bell pepper, green onion, jalapeño, ¼ cup cilantro, lime juice, cumin and oregano. Stir and cook for another 4-5 minutes, until the vegetables are fragrant and tender.
Add the salsa verde, chicken stock and water. Stir in the diced chicken, bring to a simmer. Cook for an additional 30 minutes. Season to taste with salt and pepper.
Serve with tortilla chips, fresco cheese and remaining cilantro.
Recipe and Photo Courtesy of Cassie Laemmli, Bake Your Day.
*Available while quantities last. All products may not be available in all stores. Prices subject to change.