October 28, 2105 – If the cool fall air has you reaching for a seasonal brew, then you've come to the right place. Michael Agnew, Certified Cicerone, is back again to offer palette-pleasing pairs. Cheers!
Imperium Premium Lager with Kielbasa, Shrimp & Black Bean Soup
This zesty soup brings a sweet and spicy flavor mix that speaks to every element of Imperium Premium Lager. Spices like cumin, garlic, and cilantro are natural partners to the spicy hop flavors in this beer.
Sautéed onion and bell peppers bring out Imperium's malty sweeter side. That same malty sweetness will also help to temper the spicy heat of chili powder and green chilies. Crisp golden lager is a perfect pairing with kielbasa and shrimp almost any way it's prepared.
Boot Tread Belgian Amber Ale with Fall Harvest Ravioli
The arrival of winter squashes is a welcome marker for the shift of seasons from summer into fall. An amber-colored beer with notes of caramel, toast and nuts like Boot Tread Belgian Amber provides the perfect complement to the savory sweetness of these seasonal delights.
While bridging to the squash, Boot Tread's caramel sweetness also balances the acidity of the tomatoes. Toasted pumpkin seeds sprinkled on top highlight the beer's subtle toast. The bitterness and spicy hops are just enough to cut the richness of the dish. Let this soothing combination soften the edge of those brisk, early fall evenings.
Bacher German Style Lager with Krautburger
Crisp and zippy German lager is a classic pairing to kraut. The flavors in this dish are not intense. Bacher Lager complements them without covering them up. Gentle malty sweetness calms the sour brought by vinegar in this recipe, but doesn't kill it all together.
The spicy European hops help pull out the savory flavors that Chef's Cupboard Onion Soup Mix adds to the dish. Notes of toasted grain tie in to the baked biscuit wrapper. If you'd like a tangier German flair, try substituting sauerkraut for the cabbage and leaving out the vinegar.
Availability and price of alcoholic beverages vary by store.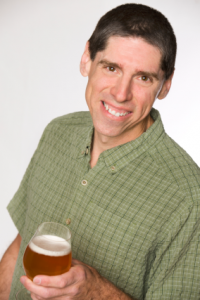 Michael Agnew is a Certified Cicerone®. He conducts beer tastings, trainings, and beer dinners with his company A Perfect Pint. Michael writes a beer column for the Minneapolis Star Tribune and has published articles in several national beer magazines. His two books, Craft Beer for the Homebrewer and A Perfect Pint's Beer Guide to the Heartland are available wherever books are sold.