You'll be eagerly counting down days as we approach the holidays. This year, we are giving you even more to anticipate! Starting the week of 10/31 and going into the week of 11/7, we're carrying unique advent calendars with surprises to open every day in December!
Choceur Chocolate Advent Calendars
Get ready, chocolate lovers! In stores beginning 10/31, choose between two Choecur advent calendars filled with milk chocolate figures. The chocolates inside the Premium Advent Calendar ($4.99) are crème filled and are larger in-size, whereas the Choceur Advent Calendar chocolates ($1.29) are solid. There are different scenes to select and kids can color the back! Both advent calendars use UTZ certified chocolate which means the cocoa came from a farm that followed UTZ sustainability standards. For more information on our various product certifications, read our Earth Day blog post.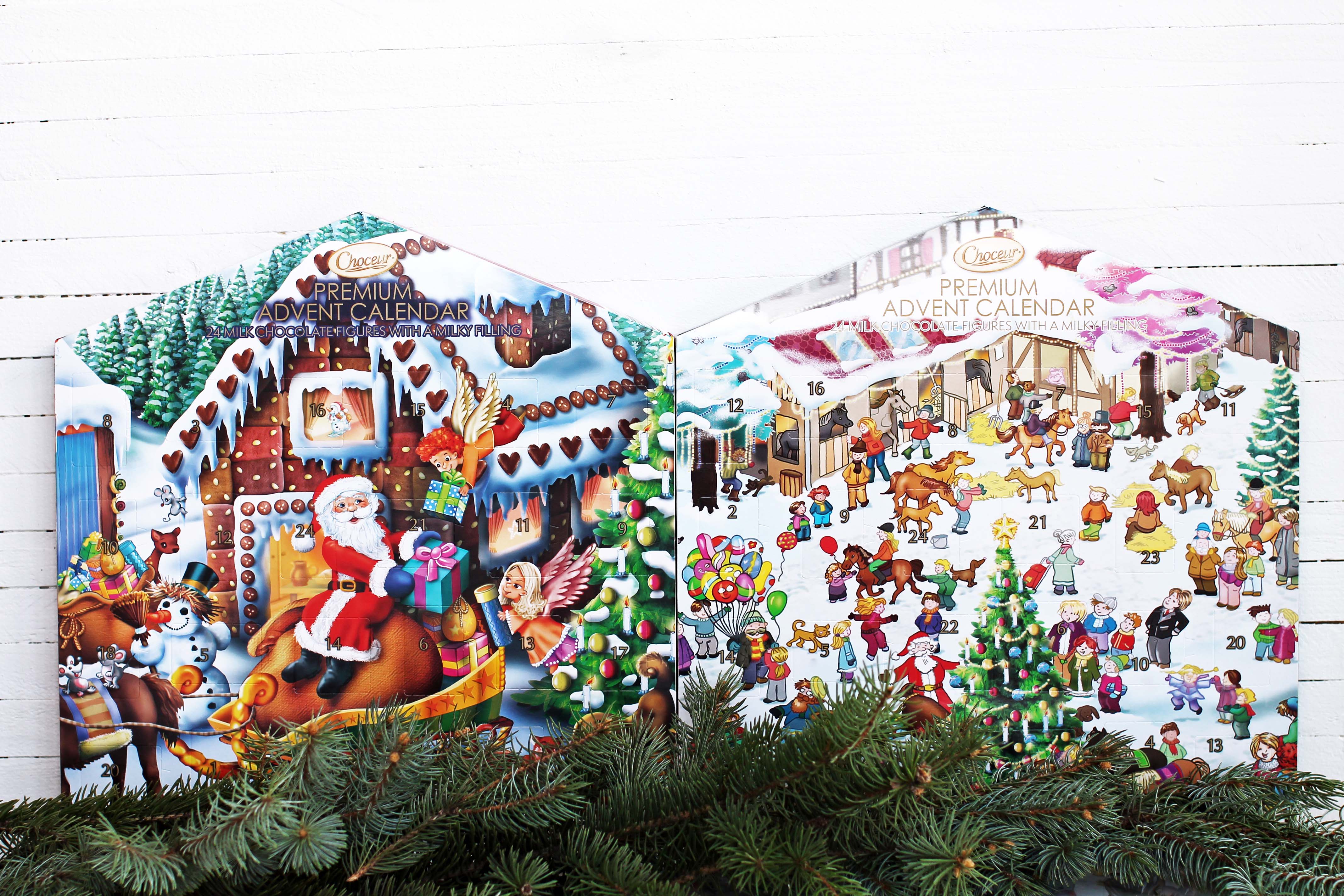 Satisfy your sweet tooth with these chocolate advent calendars.
Happy Farms Preferred Cheese Advent Calendar
This will be the first ALDI cheese advent calendar released in the United States. This calendar will be in stores 11/7 at a price of $12.99. Enjoy 24 snack-sized European cheeses from the United Kingdom, Holland and Denmark in flavors of Cheddar, Gouda, Edam, Havarti and Red Leicester. There is a limit of three per customer so hurry into your store on 11/7 to grab this calendar…and the one below while you're at it!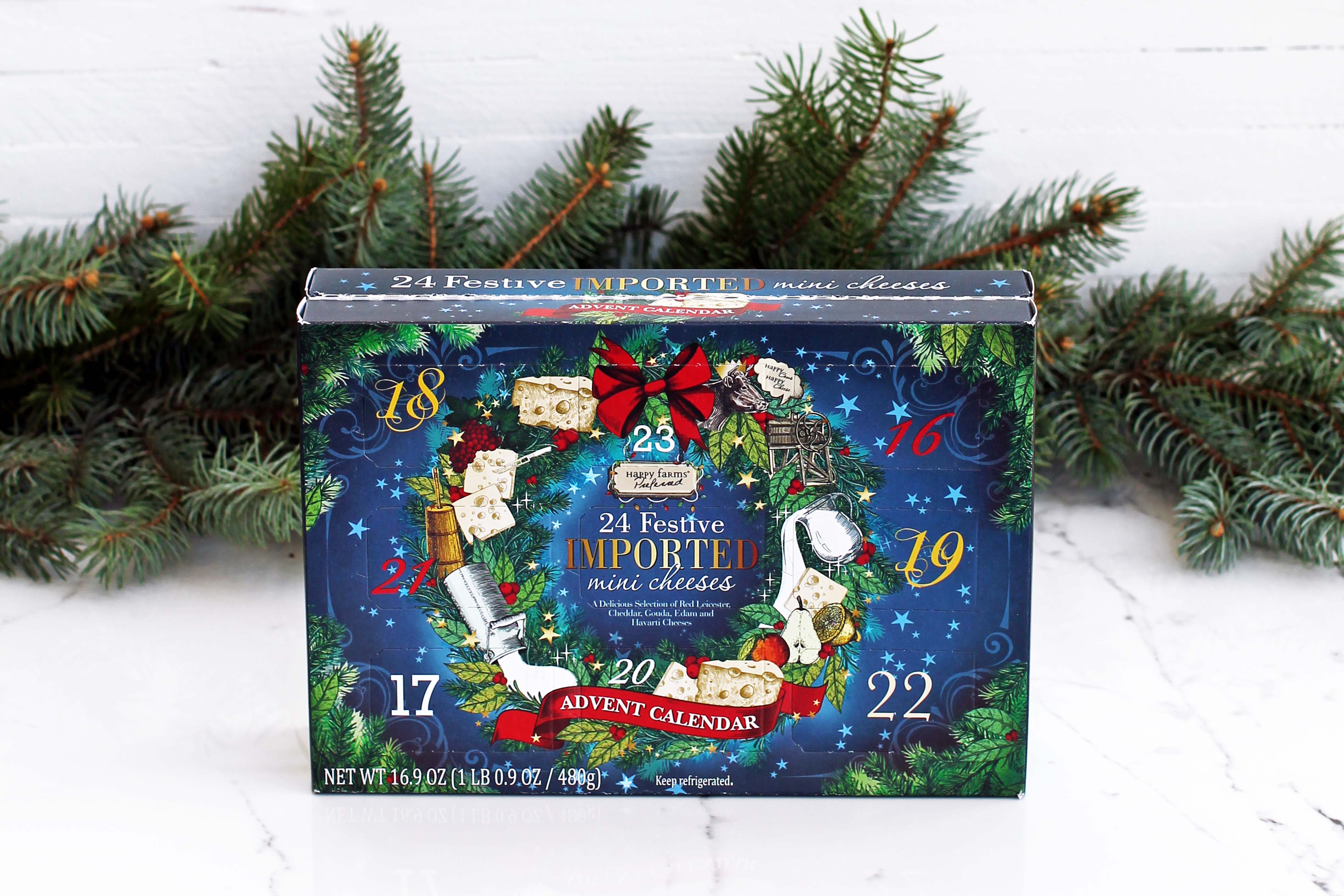 This cheese advent calendar is as beautiful as it is delicious.
*Festive Collection Wine Advent Calendar
Yes, you read that right. Our Wine Advent Calendar (price varies per Division) will hit stores the same day as the Cheese Advent Calendar. Pair them together for the best December ever. The wines in this calendar come from regions around the world, from South Africa to Australia, and are housed in 187 ml. individual bottles. Open one of the flaps each day to find a new variety.
If you can't decide what blend of wine you like best, this calendar carries an array of red, white, bubbly, sweet and dry.  Similar to our Cheese Advent Calendar, this is the first time we're selling this product in the United States. We'll toast to that! Please note that we are limiting one per customer due to high demand.
*Only sold in Divisions that carry alcohol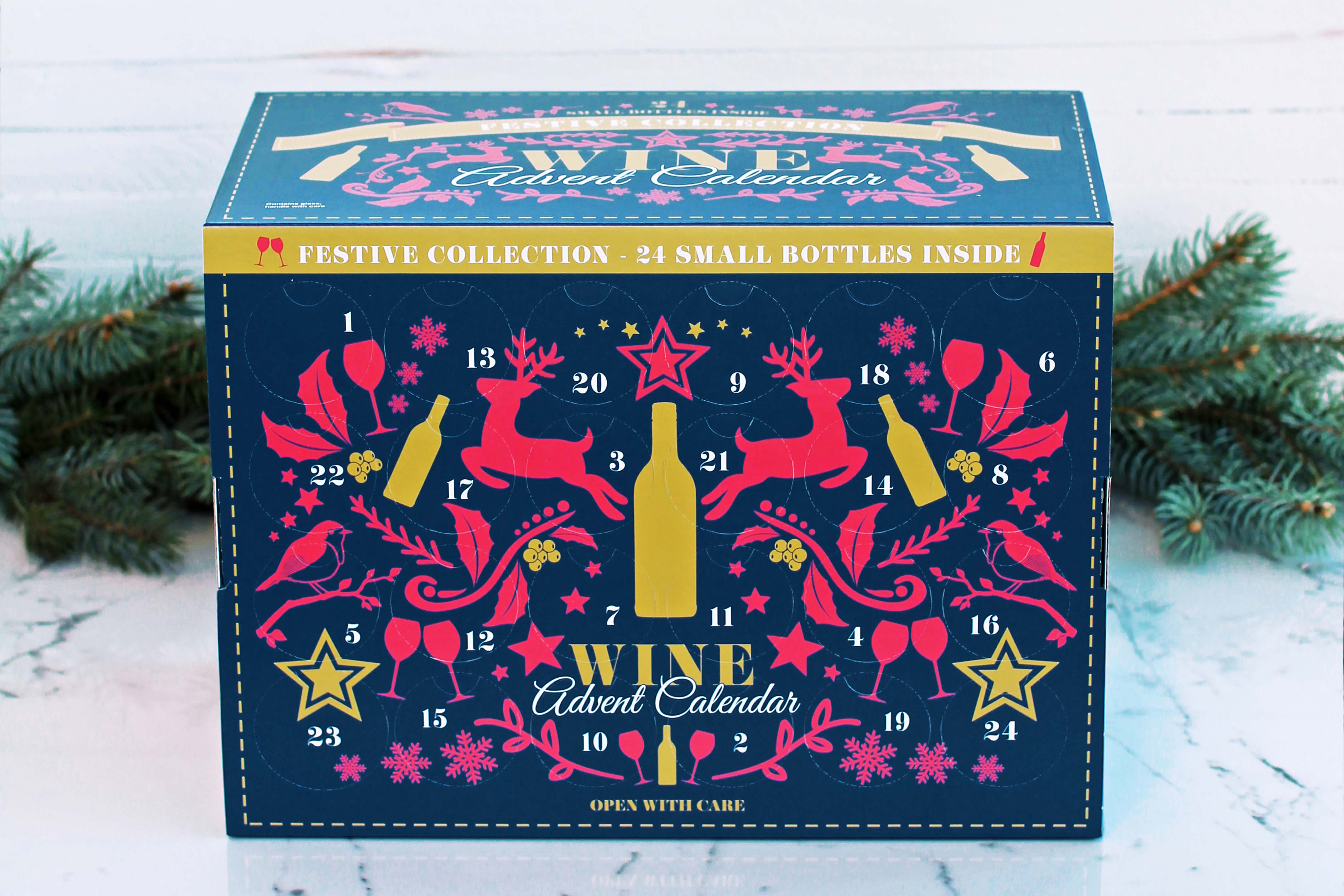 Taste a new wine every day in December with this limited-time calendar.
Make Your Own
Since our advent calendars are available for a limited time and are on a first-come, first-serve basis, we have product suggestions for a DIY version just in case. You have a few different options when it comes to making your own. One of the more eco-friendly choices is to purchase a homemade reusable advent calendar, such as a wooden one, that can be found at craft stores or at online retailers such as Etsy. This gives you the flexibility of using new goodies every year! If you are looking for a more involved craft project, you can make your own from start-to-finish. (A quick search on Pinterest will give you plenty of ideas).
No matter how you decide to make your calendar, keep in mind that the storage of your calendar depends on the type of foods you use inside. This may limit the size and material of your calendar. For the chocolate and hard cheese, you will need to cut off a piece and wrap it in plastic wrap or aluminum foil to keep it fresh. As for wine, it will depend on the type of advent calendar you're creating as to whether you'll be able to use the full bottle of wine or will need to decant it.
Here are some of our chocolate, cheese and wine recommendations for your DIY creation:
Cheese
Use any of our award-winning cheeses, such as our Happy Farms Preferred Brie Cheese Round ($2.99) or Specially Selected Aged Reserve White Cheddar ($2.49).
Purchase our seasonal limited-time Happy Farms Cheese Cubes ($1.99). These are already the perfect size and come in either mild Cheddar or Colby Jack.
Another seasonal cheese we look forward to each year is our Happy Farms Preferred Cranberry White Cheddar ($2.99). It is sure to bring holiday cheer!
Beginning 11/21, try our new Specially Selected Holiday Waxed Cheese Truckles that are in store for a limited time. Pick from Mature Cheddar, Wensleydale Cranberry, Cheddar with Onions and Double Gloucester & Chive ($2.49).
You can't go wrong with easy-to-cut classics like the Happy Farms Swiss Cheese or Sharp Cheddar blocks. (Price varies by region).
Chocolate
Our Moser Roth Dark 70% Chocolate won the 2018 SELF Healthy Food Awards and is Fair Trade certified. If you want something flavored, Moser Roth also comes in Chili, Mint and Dark Sea Salt to name just a few varieties. (Price varies by region).
It will be hard to decide which Choceur chocolate you want to include inside your calendar whether Mini Chocolate Bars ($2.29), Peanut Butter Cups ($2.69), Chocolate Covered Mini Pretzels (price varies by region) or Crème Filled Mini Bars ($2.29).
If you want to include sweets with holiday flair, we suggest seasonal chocolates. Starting on 10/30, our German Winternacht chocolate becomes available. The Mini Santa, Bear and Snowmen ($0.74) would make adorable additions to the calendar.
Our seasonal Baker's Corner Vanilla and Chocolate Almond Bark ($2.69) come in slabs for baking, but can be divided into sampling sizes.
Wine
Yes, we have more award winners! Our William Wright Chardonnay, 2016 vintage wine was awarded the World Wine Championship Award, earning a Silver Medal by the experts at the Beverage Testing Institute.
You'll want to taste our seasonal wines, (available beginning 10/30), before they are gone. If you want the authentic holiday experience, the Christkindl Mulled Wines or Gluhewin are your best bet.
Our wine buyers have also selected some must-have wines for the season; click here for a Downloadable Wine Tasting Mat that features all eight of their recommended wines. Use this mat as a fun hosting activity and to help you plan perfect food pairings.
*Wine advent calendar and wines are only sold in Divisions that carry alcohol. Prices range per Division.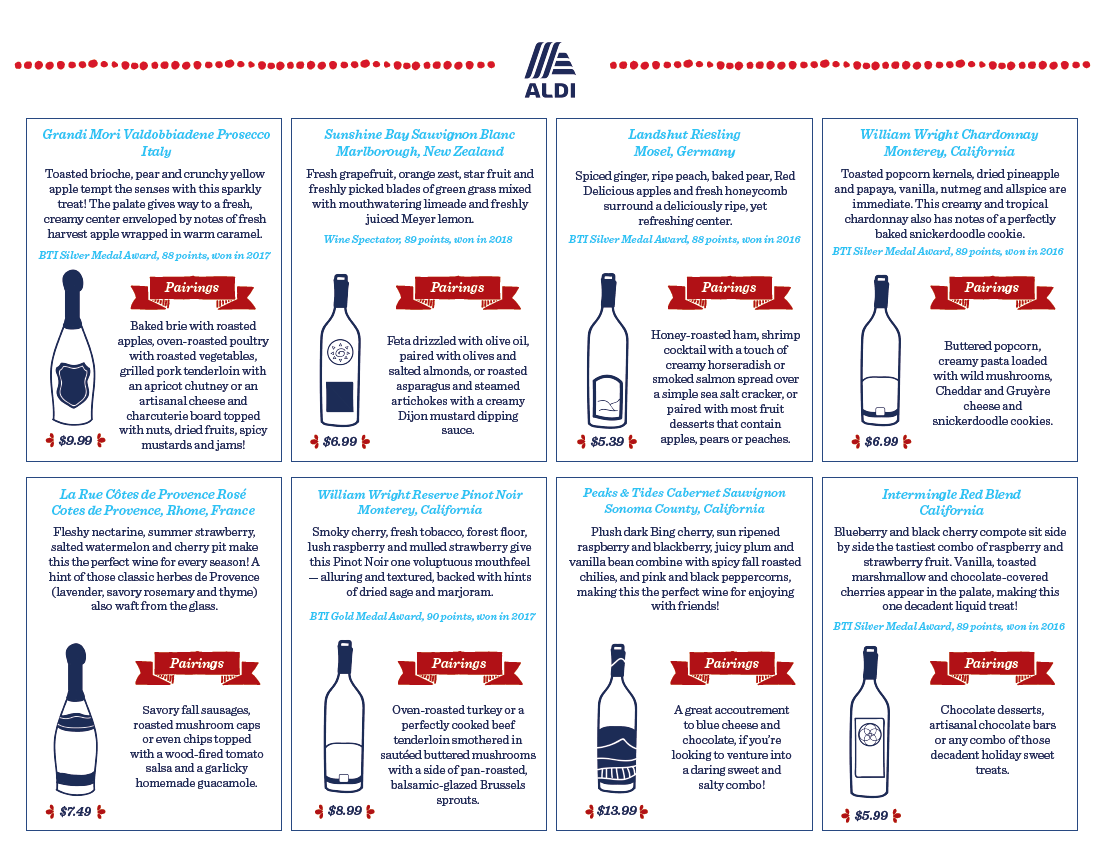 Download and print this Wine Tasting Mat to guide your wine selections.
This holiday, have fun no matter how you count down until Christmas! Let us know in the comments below which of our advent calendars you're most looking forward to buying!